Moge-ko is an antagonist in the Mentality Fanfic Series.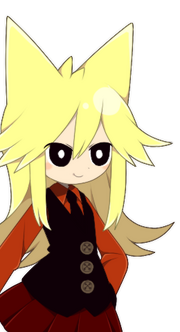 History:
When the Mogekos were trying to create the perfect girl, they mixed in cement instead of candy, resulting in her psychosis.
In Emotivity - Morality, she notices Burukku and Defect Mogeko entering her floor. She then spies on them. Eventually, when they make it to the crucifiction room, she suddenly appears... and begins showing her cute and psycho personalities. They are then stubbornly chased by her before losing her.
In Bad End 4, she captures Burukku and Defect Mogeko. In Bad End 4 part 2, she erotically tortures Burukku after killing Defect Mogeko.
Personalities:
Cute:
In her cute personality, Moge-ko likes highschoolers just like all other Mogekos. She is very childish, misinterpreting people running from her as 'playing tag'.
Psycho:
In her psycho personality, Moge-ko acts and talks very erratically.
Powers:
Teleportation

Trivia:
She loves naps and candy. And also torture and death.
Gallery: